VALE
This page is in loving memory of our friends who have left our lives but not our hearts, and who are waiting for us at the bridge.
They have earned their wings now and are playing with the angels...
Bastian
Bozeeb Lone Wolf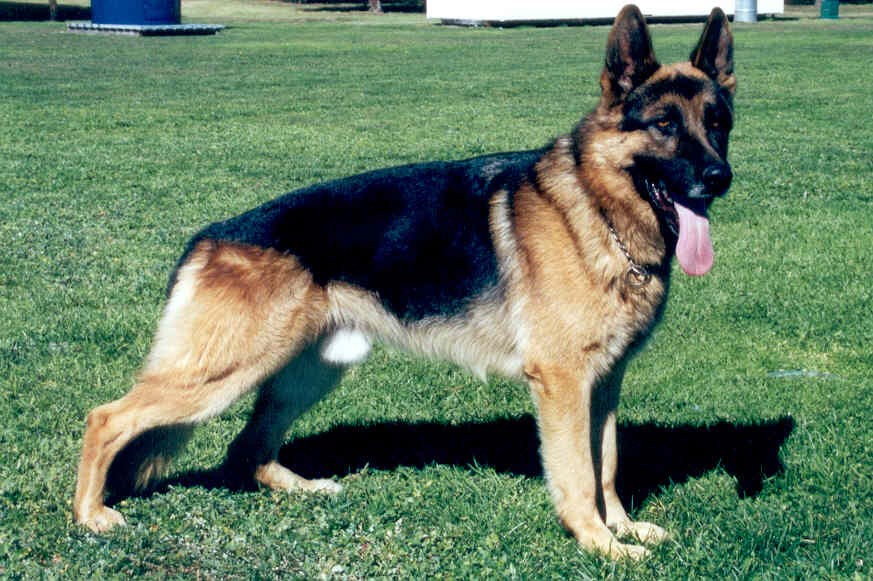 Bastian was my first German Shepherd, and has become the standard I have held all my dogs since, against.
He was brave, confidant, willing to please, eager to learn and could read people in a heartbeat. If he didn't like someone then there was a good reason.
I was very lucky when Julie from Bozeeb Kennels allowed me to have the pick of the litter, as I had no experience with owning a GSD before. Julie mentored me to teach me what I needed to know and we still have a very strong friendship now, many years later.
Bastian was my heart dog, with everything that entails. He was with us both through some very tough times in our lives and he made things better by just being there.
Unfortunately Bastian was also a teacher dog (some of you will understand this better than others) and he spent his short life teaching me about the dangers of conventional medicine. Through it all though, he was his gentlemanly self, right up until the end.
I owe this boy a lot. The future dogs of Sokari owe this boy their lives and their health, as he set me on the path of predominately Natural Rearing. Each day we are given opportunities to learn, it is what we do with those opportunities that counts. Now that we know better we do better.
Lolli
VonAachen Giacinta
06-05-2005 - 23-09-2011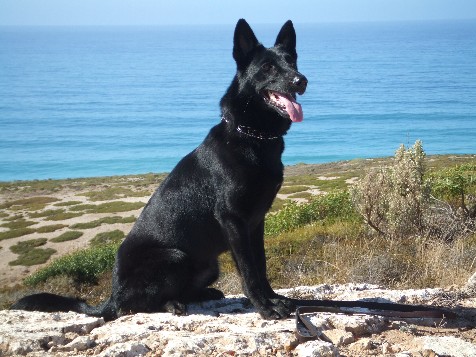 Lolli was such a big part of our lives and the loss is still so new I can't find the words to say how much it hurts that I don't have her with me any more. I know we love all our dogs as does everyone....but some just dig themselves that little bit deeper into your heart and losing them is nearly too much to live with. My heart is broken and even knowing it was for the best is no consolation.

Lolli was the mother of two litters and was an excellent mother, fantastic couch potato and my ultimate defender.!
Kaylha Lulu
Sampenny Everybit Sampenny Entice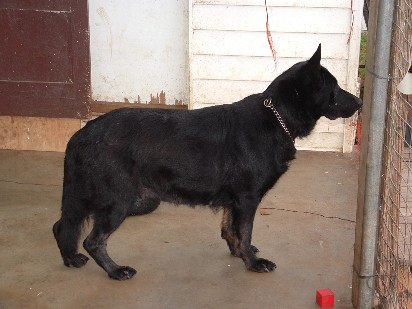 Kaylha and Lulu came to us when they were a bit older. They were such lost souls and were looking for the right family to call home. We were lucky enough to be it. The moment I saw her and Lulu behind the wire of their very small runs, I knew they would eventually end up living with me. Kaylha came home with me that day, and Lulu not long after.
It was never an easy road with Kaylha, as he her health was not too good. Kaylha had one beautiful litter for us and was the best mother I could have hoped for. Her descendants ensure a little bit of her lives on even while she is gone.
People were always saying how reserved and proper Kaylha was when she went and stayed with friends (on the rare occasion we couldn't take her with us). But as soon as she saw us she would change into this beautiful, boisterous girl who would bear hug you and play box. We were so fortunate that she trusted us enough to show us this side of her.
Lulu was such a sweetheart. She made it clear to me the day she came to us that this was it...she was where she belonged. I didn't listen though and at one point I trusted someone else to look after her.....sadly it was Lulu who paid the price. When she came home, I promised she would never have to leave us again. I kept this promise. She now sits in a place of honour with our other pack members who are waiting at the bridge.
When Lulu came to us she didn't know what toys were for. Thankfully we had Lolli (still a puppy at that time) who was more than willing to teach her how much fun toys were.! Then you would see her proudly trotting round the yard with a bright toy in her mouth, proud as punch of herself, going to the other dogs and offering to share it with them if they wanted to play too.
Lulu also gave us one beautiful litter, and her daughter Sascha is hopefully going to carry their legacy onto the next generation for us. Sascha is almost a clone of her mother, right down to a lot of her little idiosyncrasies.! It is amazing.
I will always remember the way the two of them, Kaylha & Lulu would sleep on the bed at night till they thought we were asleep, then they would both sneak off the bed and get underneath it where they had a fluffy doona to cuddle on.
The two of them taught me that not everyone is perfect and that you can get more by asking than demanding. They taught me that training and learning are a partnership deal...not just me telling and them doing. I learnt so much having these two beautiful girls in my life and the hole they left when their time was up, was nearly too much to bare. True to form, the two of them did everything together, and it wasn't long after Kaylha left that Lulu did too.
Words cannot express how much I miss my two girls.
Buddah
VonAachen Maffay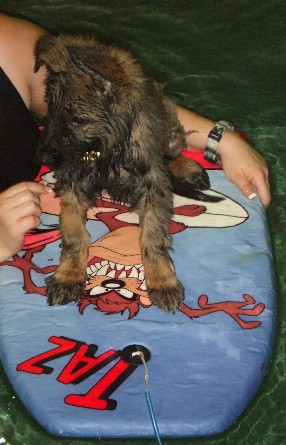 Buddah was another boy who ended up being a teacher dog. He was sadly only with us for 7 months before a chance of nature took him to the bridge, but he opened our hearts again and showed us that, even though no other boy would ever replace Bastian, they could still make their own little place in our hearts.
This little boy was so much a joy to have. He was patient, willing to learn, happy, strong willed but all the while he acted like it was him having to look out for me. I think he knew he wasn't going to be with us for long because he lived every day to the fullest, everything he was shown he would perform perfectly from then on, and he wanted nothing more than to just be with us...in the house, car or wherever. No one else mattered for him. He would ignore everyone else just to lie at my feet watching me in the middle of the raucous of a bawdy training club.
My heart broke again when we lost Buddah. I nearly gave up owning dogs, but that wasn't the lesson he wanted us to learn. So in his memory we go on.


Madoka
Sunhaze Madoka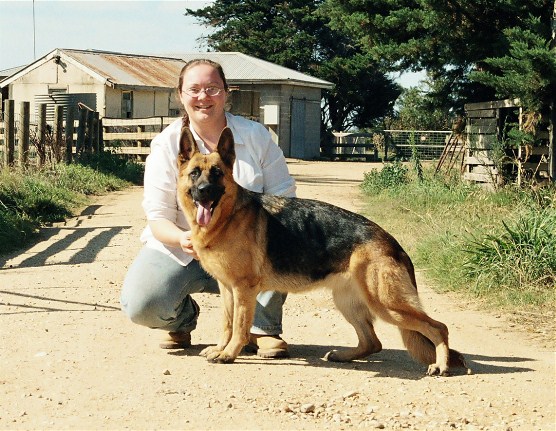 Maddy had a hard life. When she came home with us at eight weeks old we never thought things would end as they did. She lived happily with us until she was nearly two and a half years old, but due to her failing her hip and elbow scores for breeding suitability we decided to send her to a forever home where she would be working and would live out her life happily.
Unfortunately things didn't happen like that and the road that Maddy trod for the next five years is anyone's guess. All we know is that it was a hard one and it ended with her being collected by RSPCA Officers in very bad condition. You can read about her story on the page called "Madoka's Story".
After coming home to us though her life turned around and was a doggy dream. She went to live with dear friends of ours and had the run of the house and yard, got to sleep on the bed with "her" little girl and basically was treated like a princess.!
It is always sad when one of your fur-kids goes to the bridge. 2011 has been twice as hard as both Maddy and Lolli have made the journey to the bridge within a short time of each other. Maddy is now at peace and no longer trapped in a fragile body. She is flying free at the bridge and will be waiting with Pebbles (the Rottweiler) for Jane and Chloe to come for her.!